Blogs
STAR WARS VII Cast Photo!
Written by Dave B.
Tuesday, 29 April 2014 10:20
John Boyega, Daisy Ridley, Adam Driver, Oscar Isaac, Andy Serkis, Domnhall Gleeson, and Max von Sydow. If you haven't heard those names yet, you'd better get used to them! These are your newest cast members for Star Wars: Episode VII, OFFICIALLY announced by Disney this morning.
No word has been spoken on the roles that these actors will be taking on, but there's still a lot of news that still has to develop.
The rumors were swirling, and now it's official: tying it all together will be the return of the main characters of Episodes VI, V, and IV! Mark Hamill, Carrie Fisher, and Harrison Ford are all returning, we assume in that means in their original parts as Luke Skywalker, Princess Leia and Han Solo. Also, Anthony Daniels and Peter Mayhew are also back which means...so is C-3P0 and Chewbacca! And, check out the cast photo - there's R2D2 in the back behind Harrison Ford - all is well in the world.
December 18, 2015 is the date to circle on your calendars, because that's when Star Wars: Episode VII heads to theaters. There's still plenty of news on the way, so make sure you stay tuned to KidsPickFlicks for all the details!
JUSTICE LEAGUE Movie Happening with MAN OF STEEL Director
Written by Tara the Mom
Sunday, 27 April 2014 19:00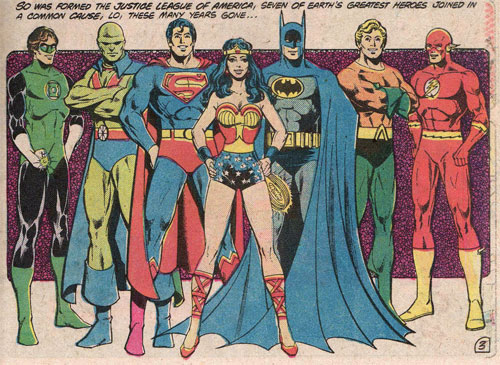 Zack Snyder is now officially in charge of the DC Comics Universe. The Man of Steel director rebooted Superman and is helming 2016's Batman vs. Superman movie. Warner Brothers, who makes all the movies of DC Comics character, now has given Snyder the go ahead to make a Justice League movie.
Actors who have committed include Henry Cavill as Superman, Ben Affleck as Batman and Gal Gadot as Wonder Woman - those three are the core members of the Justice League. The rest of the original seven members are Aquaman, Flash, Green Lantern and the Martian Manhunter (who thinks that guy's probably not going to make the movie?). A lot of other superheroes have passed through the halls of the Justice League, though, so it's anyone's guess which heroes will fill out the League for the first movie (Wonder Twins, anyone?). One clue, though, is that it was announced that stage actor Ray Fisher would play Cyborg in Batman vs Superman. Also, do you think Ryan Reynolds will be back as Green Lantern since his movie didn't do well?
We have some time to guess, though - no date has been announced for the film yet and we're still TWO YEARS away from Batman vs. Superman.
Spielberg's Next Movie for Kids Will Be a GIANT
Written by Dave B.
Sunday, 27 April 2014 08:18
When Steven Spielberg is attached to direct a movie, you know that it's something to look forward to. After all, with movies like Lincoln, Indiana Jones, and E.T. under his belt, it's obvious that he's made of some real raw talent.
Mr. Spielberg is no stranger to book adaptations, either (Jurassic Park anyone?) And it sounds like he found one of his next big projects in Roald Dahl's "Big Friendly Giant." This classic children's tale comes from the same author as "Charlie and the Chocolate Factory."
The Big Friendly Giant, or "BFG," follows the story of Sophie, a young girl who befriends a kind giant. She quickly finds out that a gang of evil giants, however, are planning to descend upon her land. So it's up to Sophie and her friend to protect England from the evil giants.
Fans of the book may have to wait just a smidge longer for the BFG movie adaptation, however, because it appears that Steven Spielberg is gearing up for a Cold War drama featuring long-time movie partner Tom Hanks. Stay tuned to KidsPickFlicks for all of the details on these upcoming movies as they develop!
TRANSCENDENCE: Joel Courtney & Kat McNamara's Movie Star Movie Crix Movie Review
Written by Katherine McNamara
Friday, 25 April 2014 23:06
Transcendence dives into some heady ideas, but do they make sense? KidsPickFlicks Movie Star Movie Crix Katherine McNamara (Contest) and Joel Courtney (Super 8) say it's a film worth exploring:
"To what limits should technology stretch? Transcendence does not answer this question, it merely begins to explore its possibilities. The film follows the story of Will and Evelyn Caster as their journey to creating artificial intelligence changes suddenly when Will is fatally wounded by an intelligence resistance group. Stunning visual effects show a myriad of futuristic technologies made possible in this world including plants being brought to life with nano-technology. These phenomena were made believable by the performances of Paul Bettanny and Rebecca Hall as they saw their possibilities for healing and destruction. Johnny Depp also delivered a fantastic performance as Will Caster in his ever-changing altered state of consciousness, if you will. Some strong language is used in the film, but not to a point of distraction from the story. Transcendence leaves audiences wondering, 'Can we measure a human soul?' 4 stars.."

What did YOU think about Transcendence? Crix it by writing your own review -- just click HERE.
Currently, Kat is shooting her upcoming MTV series "Happyland" and Joel just wrapped "The Messengers," a pilot for CW. They both have feature films coming out in theaters this year including Mercy and Little Savages. Follow them on Twitter @Kat_McNamara and @Joel_Courtney ... and follow us, too - @KidsPickFlicks!
TWILIGHT Mastermind Stephenie Meyer to Make Film from NOT A DROP TO DRINK
Written by Dave B.
Friday, 25 April 2014 13:47
Stephenie Meyer, famed author of both the "Twilight" franchise and "The Host," has recently broken into the movie business with her production company, Fickle Fish Films.
Fickle Fish is gearing up to help another young adult author, Mindy McGinnis, bring her story to the big screen. Mindy's debut book, "Not a Drop to Drink," landed on shelves last year, and we can't wait to see it brought to life!
"Not a Drop to Drink" focuses on Lynn, who lives in a world that manages to survive with very little fresh water in existence. Her pond is the only source that Lynn knows of, and she spends a lot of her time protecting it from the forces of nature, animals, and others looking for a drink.
When Lynn notices faint hints of smoke in the distance, she knows that other survivors can't be far off, and she has to be ready for the next wave and possible attack on her pond.
The entire story of "Not a Drop to Drink" makes us thankful that we live in a world of water purification plants and Brita filters. Make sure you keep checking back to KidsPickFlicks for all of the details on this upcoming feature.
Page 17 of 327